Meet Our Team
Dental Staff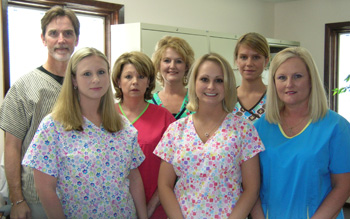 Cindy, Dental Hygienist and Office Manager
For more than 20 years, Cindy has served our patients with love and respect. She believes that our patients are the cornerstone of the practice, and she counts them as her extended family. Cindy has a degree from Troy State University and UAB, where she won many dental hygienist awards. As parents of two grown children, Cindy and her husband enjoy traveling, Alabama football, and the theatre.
Jeanne, Dental Hygienist
Jeanne has been a part of our team for about 10 years as a dental hygienist. She graduated from the Alabama Dental Hygiene Program, but also attended LBW of Adalusia. Using the latest dental technology and a working with a dedicated team allow Jeanne to give her patients the care they deserve. Away from work, she enjoys participating in her three children's activities with sports and school.
Amanda, Dental Assistant
Amanda helps Dr. Jackson chairside and enjoys bringing our patients the latest dental technology. She enjoys meeting people and working with our patients. Amanda attended Troy University and has been married for two years.
Kayla, Dental Assistant
With an associate's degree from Lurleen B. Wallace Community College, Kayla will study dental hygiene beginning in July 2007. She plans to make a career in dentistry because she enjoys the technology and science of dentistry, but she also finds great joy in making patients smile.
Rene, Receptionist
With seven years at our practice, Rene enjoys our staff and patients. She finds dental
technology interesting, and she's true people person at heart. Rene and her husband,
Ben, are proud parents of Gracie Elizabeth, and the family lives in Enterprise.
Shelia, Hygienist
With more than 20 years in the dental field, Shelia is a member of the Central
Alabama Dental Hygienists Study Club, the Alabama Hygienists'
Association, and the American Heart Association. She graduated in
1992 from UAB and has been with Dr. Jackson for seven years.
Shelia and her husband, Mitchell, have two children,
Kristy and Chad. She likes to shop for antiques
and work with flowers in her spare time.